Our Process
We are here to partner with you in managing the wealth you've worked so hard to achieve. Our goal is to provide the confidence of knowing your financial plan is well constructed and monitored. We want to hear about your dreams, your concerns and what you value most. We are expert listeners and use what we hear to build a plan customized to you.
How We Plan Your Route

Getting to know you
The initial meeting is all about you. Who are you, your family? How did you build your wealth? What are your passions and goals and what are your fears? We ask questions you may not have even thought about. Our talk will help us formulate the right plan for you initially and a construct a vision for you long term.

Presenting a plan
Our recommendations. In this second meeting we will discuss at length our suggestions for your financial plan. This includes not only portfolio construction and management, but education, estate planning, income needs and insurance concerns.

Embarkation
This is putting the plan in place. Once you agree with the course of action, we help implement the recommendations and then move onto regular reviews and ongoing conversations with you.
Maintaining Your Course
The most successful journeys have a skilled guide. When we work with you, we don't just hand you a plan- we continually strive to make sure you remain on the right path.

On-going conversations
Every journey has sunny skies and a few bumps in the road. We maintain the
regular contact you desire to make sure you are still on course and address
needs as they come up.
Regular reassessment and evaluation
Successful journeys are enabled by the constant evaluation of the tools designed to get you there. We regularly reevaluate our investment choices with the help of strategic partners such as Goldman Sachs, JP Morgan, Natixis, Fidelity and Invesco. Plan Reviews
At least annually, we will hold a meeting with you to review your portfolio performance and check in on how your needs may have changed.
Comprehensive Wealth Management

Encompassing
You have a lot of aspects of your life. Family, career, community, interests. We work to incorporate many moving parts into a cohesive plan. We not only consider investment suitability and returns, but estate needs and potential tax issues. We look at your income needs and help you plan your legacy.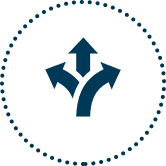 Independent
As an independent advisory, we are held to a higher fiduciary standard than many advisors in big investment houses. This means that we are committed to put your needs ahead of our own and are free to offer a broad range of cost efficient investment choices, while mitigating conflicts of interest.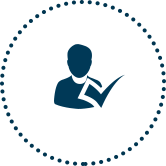 Experienced
We have been providing advice to families for over 20 years. We know what it's like to navigate through rapid growth like the dot-com boom as well as challenging times like the Great Recession. Our approach is disciplined and as a result, our clients have been able to benefit from the sunny skies and weather the storms.
Our Investment Approach

Knowledgeable
With two MBAs and a CIMA (Certified Investment Management Analyst) on staff and a host of partner analysts, we bring broad ranging investment knowledge and management to portfolio construction and implementation. We use time tested strategies of asset allocation focused on long term returns and don't call our clients with the latest stock picks or investment schemes.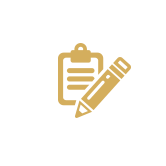 Disciplined
Individual investors, often driven by emotions, frequently do the wrong thing at the wrong time. Timing when to buy and sell is difficult at best. Our approach is to construct portfolios focused on risk management and to invest and rebalance them with consistency. We take into consideration your income needs and long term growth targets and design our portfolios both to participate in growing markets and weather the challenging ones.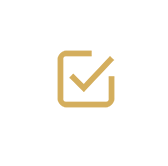 Proven
Over the years, we've seen our methodology work in the most trying of times and benefit from the good. Our consistent process of investment analysis and allocation has been in place for decades. We take advantage of talented management and steer clear of untested paths that may add unnecessary risk to portfolios. At the same time, we leverage new tools to enhance and streamline our process and provide comprehensive, reliable performance reporting.